As a business owner, you most likely have a team to scale up your business, and they must perform at our best at all times. But how? Is there anything we can do?
Let's learn about the wisdom of teams and how one can build a good team.
3 Key Concepts
The Wisdom of Teams: How to focus on team basics?
Learn about these basics below to clarify what a team really means and when to form one. Most of the time, you will know when. Obviously, we all have limited time per day, and some tasks can be done better by others. The illusion that you can do everything better than everyone will become a bottleneck and slow your business growth.
This book discusses in-depth team performance 30 years ago and is still relevant now, if not more than ever.
If you are interested in building a workplace for talents, check out The Gifted Boss: How to Find, Create and Keep Great Employees by Dale Dauten.
---
6 Team Basics: the discipline of performing team
Small Number
Complementary Skills
Common Purpose
Specific Challenging Goal
Agreed Working Approach
Mutually Accountable
The sooner a team masters this discipline, the sooner its worries about time and effort disappear. Think of a seal team that goes about their mission. They hone on all of the basics and do not deviate from them. So likewise, you should build your team as you lead a special operation team. Because, in some sense, this is true.
No team performs without the complementary skills required for success. Teams must have a common purpose, common set of specific performance goals, and a commonly agreed upon working approach. Finally, teams must hold one another mutually accountable for their performance.

Jon and Douglas
---
New insights that enhance team performance
The author suggested a few insights to improve team output. It is relevant whether you have a large or small team. The main goal I see from the list is minimizing work friction. Less friction equals more work done!
Clarifying the choices
Integrating different disciplines
Setting outcome-based goals
Recognizing time and capacity constraints
Virtual teaming
Ensuring process support
Learn how to set a good goal that aligns with the team's vision: Measure What Matters: How Google, Bono, and the Gates Foundation Rock the World with OKRs by John Doerr. Measure what matters. It is not only a good practice but the crucial one. If you execute it wrong, it will yield a negative effect by deviating you from the path.
---
High-performance Team
After we master the team basics and other enhancing attributes, we will perform at a high level when team members honestly care for each other to improve themselves. This is a synergy that the team leader has to instruct explicitly as a role model.
---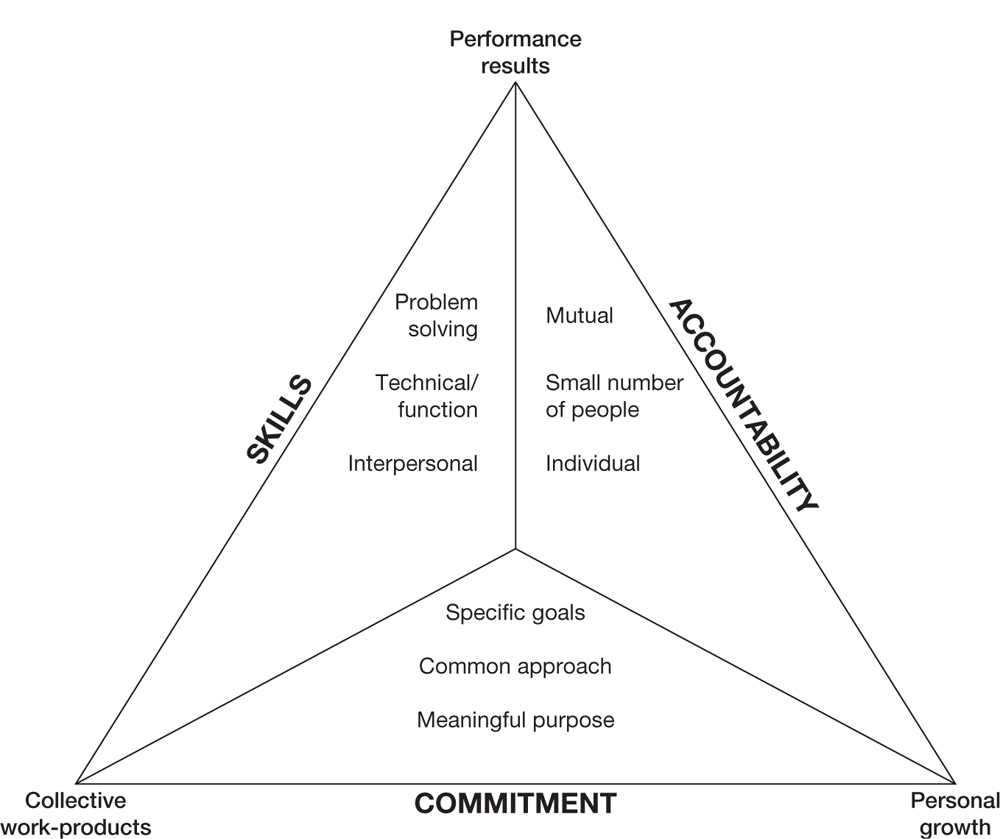 To sum up, the book conveys that the wisdom of teams comes with a focus on collective work products, personal growth, and performance results. However, to perform at its best, one must set an audacious goal and care for one another's personal development.
Goal check: I learned how to build a real team.
Get this book on Amazon here!
Bonus: Looking for a workshop during team building session? Check out this game: Marshmallow Challenge.