You are a grinder who believes in the value of education. You desire to advance your career. But you feel stuck in your job as it doesn't offer enough room to grow. You are convinced that it is time to regain control of your future by enrolling in an MBA program and jumping into cold water again.
Well, do not jump until you read this!
Summary
What is an MBA – a study of applied economics in business
Why Tech MBA – value overgrows in a digital world
A Review of my MBA – tailor-made MBA experience
"Studying a Tech MBA is like standing on the shoulder of a giant robot undertaking a hi-tech battlefield to accomplish a mission you think worthwhile."
In the past week, I have been asked by the blog and LinkedIn communities to share my view on the MBA program: its values and expectations. I think the sheer amount of questions came from a closing application deadline. A pattern of questions emerged. As a current student, here is my review to address common doubts.
Let's get to it.
What is an MBA?
MBA is a study of applied economics to administer business proficiently.
I underline here "Business Economics." The curriculum typically consists of Finance, Marketing, Accounting, Management, and Business Analytics. You will learn the theory of production, consumption, and the transfer of wealth.
It is a lot to tackle in such a short time – averaging 1.5 years, and because of its demanding nature, some people call it a "Pressure cooker" program. For more general information, see mba.com.
Why Tech MBA?
It is because we increasingly create value in a digital world.
To drive my point home, given that every business has five parts: value creation, marketing, sales, value delivery, and finance. Missing one piece, then you will have something else.
Let us look closer.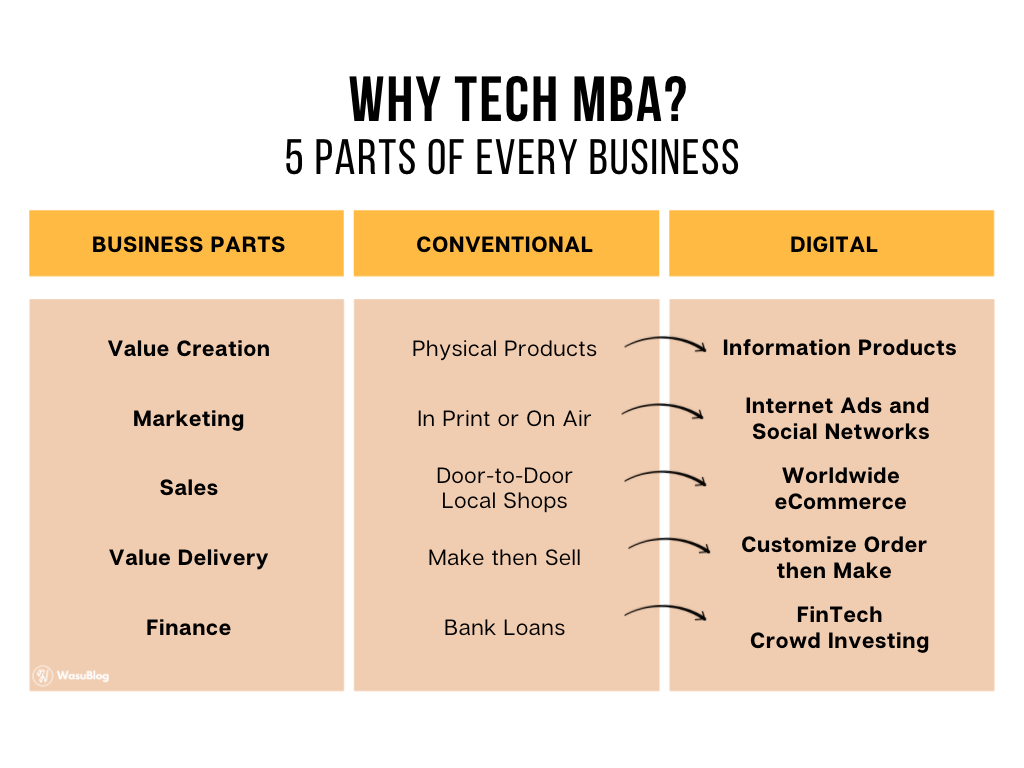 Do you see it?
Yes, every part of the business is being digitized.
Technology enables higher productivity and innovation. At the same time, business knowledge enables you to drive changes in society. They are complementing. Our world is racing into the 4th Industrial Revolution – a digital revolution, be it Big Data, the Internet of Things, or Cloud Computing.
Harness the digital power or get rolled over.
Learning these emerging technologies and applying methodologies like Design Thinking, Agile Development, and Lean Management is crucial to leveraging this hi-tech revolution. Nonetheless, Digital transformation is not entirely sustainable; there are plenty of worries about its progress and realization. We need to train professionals to manage such changes in a business environment. Thus, the Tech MBA.
A Review: Tech MBA at RWTH Business School
Go for the niche: MBA must be tailor-made.
Simply said, I tailored it by addressing my individual needs, choosing the best-fit MBA curriculum, and closing the gap with additional courses/workshops.
Firstly, my individual needs. I have worked in the auto-part industry as a plant engineer for ca. four years in Japan and wanted to shift to a more innovative role. As I am also an alumnus of RWTH Aachen University, I have an idea about Germany and would like to move back and deepen my career in Europe. In summary, I wanted to shift my role and change the location. MBA is like a joker card that you can pull out once to change your career course completely.
In 2021, I saw fit to do Tech MBA in Germany as it answers both of my needs. I decided on "MBA in Digitalization and Industrial Change" at my last university. With that being said, here are my answers to the most asked questions on the program.
How is the curriculum?
The first semester is about strategy, and then the second semester is about operations such as marketing, finance, and business analytics. Make sense!
Experience forefront technology on campus as RWTH is one of the largest technical universities in Europe.
All courses are in English, but the German language is crucial. Start sooner than later!
Essential Business Economics is covered as I decoded from the lecture titles below.
Learn about emerging technologies and methodologies, including Design Thinking, Agile Development, Lean Management, Big Data, and IoT.
Caution! Courses are heavily based on innovative manufacturing. So you might want to fill the gap with extra classes on IT development, such as Cloud Computing and Machine Learning.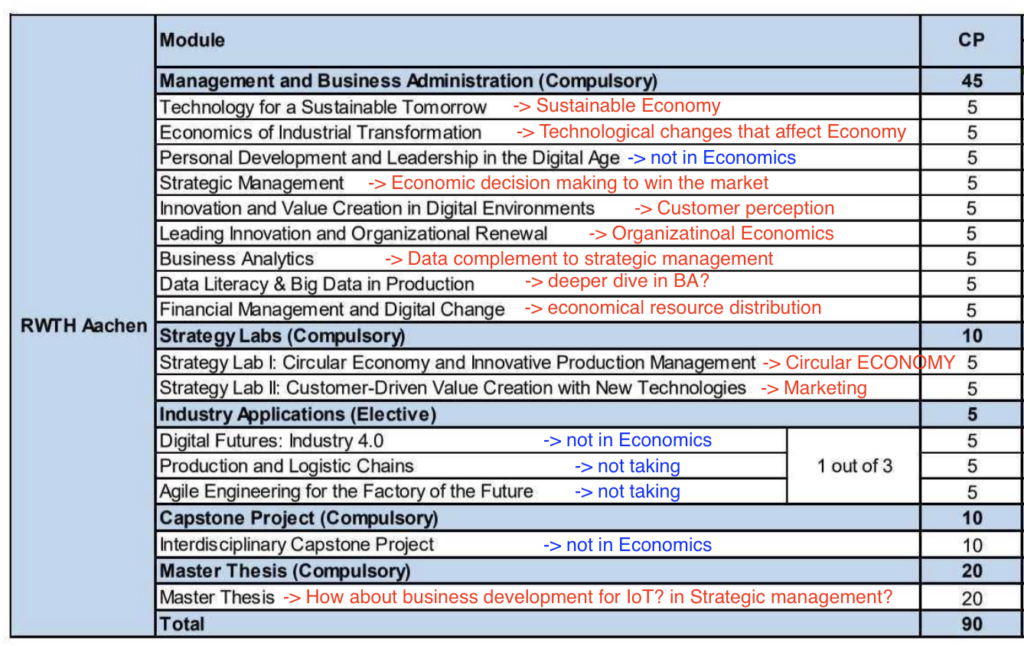 What are job prospects?
The main benefit of studying here is to gain the first step into the German IT industry. Plus, tech companies are now the biggest employer of MBA graduates. So your career prospects might be Digital Project Managers, IT Product Managers, Management Consultants, Tech Start-up Founder, etc.
How to finance it?
Tuition fee: 30.000€ the best thing about German schools is that they are inexpensive compared to other MBA programs in the UK and USA.
Scholarship: for RWTH students, you can find information here.
Living expenses: ca. 1.000€/mo.
Part-time job: possible during the study, but it will take a few months to find.
Most of the students here are self-finance from savings or student loans. So I made a book note on a financial guide for students in Germany here: Practical Road Map Through Financial Jungle: A Guide for Trainees, Students, and Young Professionals.
As you now see, an MBA is indeed about learning business theories at a high price.
Not mistaken, it is a luxury and not a must. Your alternative is self-education or cheaper online courses. You just need to consider a few trade-offs, such as the efficiency with your time, the quality of the content, your network's reputation, a return on investment, and the likelihood of completion when you do it alone.
I doubted the very same question. Therefore, I probed a business study with a 6-month reading challenge: 100 Business Books Before MBA. And started my start-up just before I started my MBA. I concluded that it is the best learning experience one can have. I come to the class daily with real business problems, and my professors help me make sense of it! There is always room for improvement. Become better!
Back to You
You believe in the value of digital transformation and are eager to act upon your dream. Your task is now to think about whether the curriculum is aligned with your unique goals. I hope I have cleared some doubts about a Tech MBA program for you.
The discussion on this life-changing decision, like quitting your job to study again, is frightening. I know. We live different values and are at different points in life. The family and financial situations play a significant role. With this understanding, I part you with the courage to be the change you want to see in our society, whether an MBA is a part of it or not : )